Yourovision Song Contest 26

Believe

Contest

Yourovision Song Contest

Edition no.

26

Participants

16

Location

Toronto, Canada

Host

Grand Final

30th March 2016

Winner

Canada
"Crier Tout Bas"

Timeline
Welcome to your Eurovision Song Contest.
This is the twenty-sixth edition of the Yourovision Song Contest, to be held in Toronto, after Allie X's technical win for Canada in the previous edition. This edition featured one of the highest proportions of non-English-language songs, constituting 56.25% of the competition.
If that definition is extended to countries singing in one of their official languages (considering that the songs of the United Kingdom, Ireland, the USA, and Malta are in English; and that Spanish is an official language of Chile, who represents a stake of Antarctica as per Yourovision participation rules), that percentage increases drastically, indicating a total of 81.25% of the competition singing in a language native to the countries in question.
This edition marks the second time a single country has won concurrently, and in a contest hosted by themselves, also making Canada's Head of Delegation the fourth to have achieved a consecutive win overall, when factoring in consecutive wins across differing countries.
Edition 26 - Toronto - Believe
After Canada's victory, Toronto and Ottawa were selected as leading candidate cities to host the twenty-sixth edition, and, ultimately, Toronto was selected for cultural and logistical reasons. This means that, once again, the contest is being in a non-capital city outside of Europe. The slogan "Believe" was chosen, in conjunction with sharply contrasting black and white imagery, and heraldry inspired by Rorschach tests, to continue to inspire the creativity responsible for the music industry.
The dates for this edition are:
Participation deadline/Voting begins: 19th March, 2016
Voting deadline: 29th March, 2016
Grand Final: 30th March, 2016
Participants
| Debuting countries | Withdrawing countries | Returning countries |
| --- | --- | --- |
| | | |
Returning Artists
Grand Final
| Draw | Country | Artist | Song | Place | Points |
| --- | --- | --- | --- | --- | --- |
| 01 | Kosovo | Dua Lipa | "Be The One" | 2 | 94 |
| 02 | Norway | Kaizers Orchestra | "En For Orgelet, En For Meg" | 15 | 31 |
| 03 | Sweden | Tove Styrke | "Ego" | 8 | 61 |
| 04 | Poland | Ewa Farna | "Tu" | 9 | 45 |
| 05 | Netherlands | Years & Years | "Eyes Shut" | 11 | 41 |
| 06 | United Kingdom | Bianca Claxton | "Shine A Little Light" | 6 | 65 |
| 07 | Albania | Arilena | "Vegim" | 4 | 67 |
| 08 | Antarctica | Kevin, Karla y La Banda | "Te Contaré" | 16 | 11 |
| 09 | United States | Lady Gaga | "'Til It Happens To You" | 12 | 40 |
| 10 | Romania | ADDA | "Lupii" | 7 | 64 |
| 11 | Canada | Cœur De Pirate | "Crier Tout Bas" | 1 | 96 |
| 12 | Malta | Christabelle | "Kingdom" | 3 | 82 |
| 13 | Slovenia | Raiven | "Črno Bel" | 14 | 31 |
| 14 | Åland Islands | Kent | "La Belle Epoque" | 10 | 45 |
| 15 | Ireland | Freezepop | "Less Talk More Rokk" | 13 | 32 |
| 16 | Hungary | Gergő Oláh | "Győz A Jó" | 5 | 65 |
Recap of the songs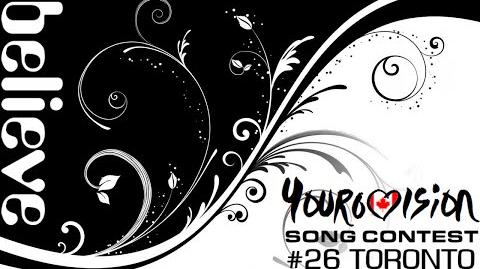 Timeline