Yourovision Song Contest 21

Falling Free

Contest

Yourovision Song Contest

Edition no.

21

Participants

15

Location

Milan, Italy

Host

Grand Final

27th September 2015

Winner

Germany
"Nie Vergessen"

Timeline
Welcome to your Eurovision Song Contest.
This was the twenty-first edition of the Yourovision Song Contest, which took place in Milan, Italy, commemorating the victory of Francesca Michielin in the second-anniversary edition, once again restoring the position of record-holders for the highest total score to Italy.
A drop in attendance, and thus a smaller contest, was anticipated this edition, following the great increase that the previous edition had experienced, as well as the two disqualifications suffered in that edition.
Edition 21 - Milan - Falling Free
Milan was selected as the host city when it became apparent that Italy was going to win the preceding edition. This decision was fuelled by the prevalence of the city as an icon of Italy, as well as the fact that Italy had hosted the contest once before; the eleventh edition, which took place in Rome, instead.
The theme art was built around the image of autumn leaves, under the slogan "'Falling Free'", based upon the imagery of the turning of the season associated with the month of September.
The dates for this edition were:
Participation deadline/Voting begins: 16th September, 2015
Voting deadline: 26th September, 2015
Grand Final: 27th September, 2015
Participants
| Debuting countries | Withdrawing countries | Returning countries |
| --- | --- | --- |
| | | |
Returning Artists
This edition
Previous appearance
Country
Artist
Song
Country
Song
Edition
Belgium
Selah Sue
"Fear Nothing"
Belgium
"Right Where I Want You"
#18
Åland Islands
Zara Larsson
"Never Forget You"
Sweden
"Carry You Home"
#17
Grand Final
| Draw | Country | Artist | Song | Place | Points |
| --- | --- | --- | --- | --- | --- |
| 01 | Israel | Kathleen Reiter | "Mind Of A Gambler" | 10 | 52 |
| 02 | Poland | Woodkid | "I Love You" | 3 | 67 |
| 03 | Finland | Janna Hurmerinta | "Läpinäkyvä" | 8 | 53 |
| 04 | United States | Twenty One Pilots | "Polarize" | 9 | 52 |
| 05 | France | Marina Kaye | "Homeless" | 2 | 81 |
| 06 | South Africa | Die Antwoord | "Ugly Boy" | 14 | 36 |
| 07 | Antarctica | Kendji Girac | "Cool" | 15 | 33 |
| 08 | Belgium | Selah Sue | "Fear Nothing" | 4 | 61 |
| 09 | Italy | Emma Marrone | "Dimentico Tutto" | 12 | 44 |
| 10 | Puerto Rico | Parson James | "Sinner Like You" | 13 | 36 |
| 11 | Åland Islands | Zara Larsson & MNEK | "Never Forget You" | 5 | 58 |
| 12 | Germany | Glasperlenspiel | "Nie Vergessen" | 1 | 83 |
| 13 | United Kingdom | Lily Allen | "The Fear" | 7 | 54 |
| 14 | Sweden | Ralf Gyllenhammar | "Bed On Fire" | 6 | 56 |
| 15 | Croatia | Magazin | "Sijamski Blizanci" | 11 | 46 |
Recap of the songs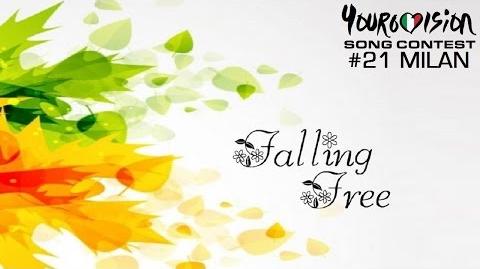 Timeline