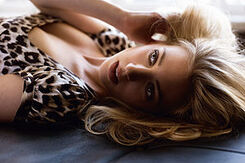 Veronica Maggio, born 15 March 1981 in Uppsala, is a Swedish singer of Italian origin. Veronica has been interested in music ever since she was 11 years old when she often listened to her dads cassette tapes containing different types of Italian pop and schlager, with artists like Lucio Battisti, Rita Pavone and Adriano Celentano, as she lived a year in Gavorrano, Toscana in Italy. She went to high school in Uppsala on Bolandsskolan's music department and was also the lead singer of the group Solitude, with other members Daniel Fredriksson, Marcus "Gonzo" Berglund, Karl Jansson, and Kristoffer Hoflund. Veronica released her debut single, Dumpa mig, in March 2006 and then got signed by Universal Music. Since then she has to date released three studio albums, Vatten & Bröd in 2006, Och vinnaren är... in 2008 and Satan i gatan in 2011. She's really popular all over Scandinavia and her latest album charted first in Sweden, second in Norway, 24th in Denmark and even managed to reach 33th place in Finland. During the summer and fall of 2011 she toured through Sweden, Norway and Denmark.
Eligible to participate for
Community content is available under
CC-BY-SA
unless otherwise noted.