"To be the man, you got to beat the man"
Universong 56



Date

2 - 19 September 2013

Host city

Participants

54

Debuting countries

None

Returning countries

Azerbaijan, Barbados, Canada, Colombia, Cuba, Cyprus, Estonia, Georgia Wales

Withdrawing countries

Liechtenstein, Luxembourg, Peru, Serbia, South Korea, Ukraine

Winner

Timeline
Universong 56, the 56th staging of the Universong Contest, was made for the very first time in Norway, specifically in the city of Tromsö, after the winning the previous edition of Tone Damli with the song "Winner of a losing game" in Den Bosch, The Netherlands. The contest was held from September 2nd to September 19th, 2013.
Finland won its third Universong title, thanks to the song "Junat ja naiset" by Jenni Vartiainen, with a total of 239 points. Jenni Vartiainen became the third Universong double champion, by virtue of winning the Universong title twice (her first winning was in USC 44). The others are Edward Maya and Vika Jigulina from Romania (USC 03 and USC 21) and Greta Salome from Iceland (USC 43 and USC 49).
The runner-up of this edition was Australia, represented by Samantha Jade and the song "Firestarter". Australia got 159 points, and 80 points of difference with winner Finland. This was, up to that moment, the biggest point difference between winner and runner-up, breaking thus the record imposed in USC 25 and equalled in USC 51 (43-point margin). That record would be later broken in USC 70 (89-point margin), and much later in USC 89, also to be held in Tromsö (99-point margin).
Latvia equalled its best position ever in USC 24 (third place), thanks to Samanta Tina and the song "Lai būtu līdzās", with 152 points, their points record. The top 5 was completed by Slovenia and Portugal. Meanwhile, Montenegro earned its best placement ever, a sixth place, after having won the first semifinal with their entry "Oldazim" by Andrea Demirovic. Up to this date, it's also been the only Grand Final for Montenegro in its Universong history.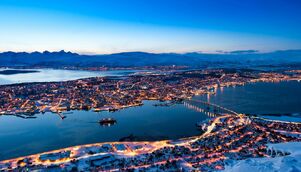 About the city
Edit
Tromsø is a city and municipality in Troms county, Norway. The administrative centre of the municipality is the city of Tromsø. Outside of Norway, Tromso and Tromsö are alternative spellings of the city. Tromsø is considered the northernmost city in the world with a population above 50,000. The most populous town north of it is Alta, Norway, with a population of 14,272 (2013).
Tromsø lies in Northern Norway. The municipality has a population of (2015) 72,066, but with an annual influx of students it has over 75,000 most of the year. It is the largest urban area in Northern Norway and the third largest north of the Arctic Circle (following Murmansk and Norilsk). Most of Tromsø, including the city centre, is located on the island of Tromsøya, 350 kilometres (217 mi) north of the Arctic Circle. In 2012, Tromsøya had a population of 36,088. Substantial parts of the urban area are also situated on the mainland to the east, and on parts of Kvaløya—a large island to the west. Tromsøya is connected to the mainland by the Tromsø Bridge and the Tromsøysund Tunnel, and to the island of Kvaløya by the Sandnessund Bridge. The city is warmer than most other places located on the same latitude, due to the warming effect of the Gulf Stream.
The city centre of Tromsø contains the highest number of old wooden houses in Northern Norway, the oldest house dating from 1789. The city is a cultural centre for its region, with several festivals taking place in the summer. Some of Norway's best-known musicians, Torbjørn Brundtland and Svein Berge of the electronica duo Röyksopp and Lene Marlin grew up and started their careers in Tromsø. Noted electronic musician Geir Jenssen also hails from Tromsø.
The most famous football team in the area, Tromsø IL, currently plays in the Norwegian Premier League.
Semifinal 1
Edit
Semifinal 2
Edit
Draw
Country
Artist
Song
Place
Points
01
Romania
Paula Seling
"Chiar pot zbura"
14
61
02
Syria
Assala Nasri
"Hayati"
12
62
03
Kosovo
Elvana Gjata

ft. 2po2

"Beso"
6
90
04
Armenia
E.V.A.
"Gerdastan"
22
33
05
Hungary
Kovács Kati
"Úgy szeretném meghálálni"
18
43
06
North Macedonia
Rennata
"Please stay"
8
85
07
Scotland
Amy McDonald
"Run"
10
75
08
Italy
Anna Oxa
"L'eterno movimento"
23
32
09
Mexico
EME-15
"Solamente tú"
21
40
10
Finland
Jenni Vartiainen
"Junat ja naiset"
1
178
11
Sweden
The Cardigans
"Erase and rewind"
17
53
12
Spain
Brian Cross

ft. Leah LaBelle

"Shot gun"
4
98
13
Latvia
Samanta Tīna
"Lai būtu līdzās"
7
87
14
Slovenia
Nika Zorjan
"Nasmeh življenja"
9
74
15
Ireland
Christy Moore
"Ordinary man"
DSQ
-
16
Canada
David Usher ft. Marie-Mai
"Je repars"
13
61
17
Bulgaria
Stela Petrova
"Mistake"
15
59
18
Brazil
MC Anita
"Show das poderosas"
16
52
19
Wales
Gruff Rhys
"Shark ridden waters"
20
42
20
Barbados
Shontelle
"Perfect nightmare"
5
91
21
Faroe Islands
Ida
"I can be"
2
113
22
Japan
Ali Project
"Troubadour"
26
0
23
Turkey
Hande Yener
"Ya ya ya"
3
109
24
Germany
Claire
"In two minds"
24
21
25
Belgium
3M8S
"My island"
25
5
26
United States
Victoria Justice
"Gold"
11
65
27
Croatia
Kinoklub
"Za nju"
19
42
Grand Final
Edit
Community content is available under
CC-BY-SA
unless otherwise noted.