Tubevision Contest 19

Contest

Edition no.

19

Participants

26

Location

Copenhagen

Dates

Semi-final 1: 21 July, 2012
Semi-final 2: 24 July, 2012
Final: 27 July, 2012

Winner

Timeline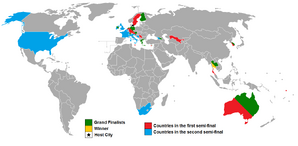 Tubevision Contest 19, often referred to as TVC 19, will be the 19th edition of Tubevision Contest.
About
The edition was held in Copenhagen after Anna Noa won for Denmark in the 18th edition. Georgia, San Marino, Tuvalu, Uzbekistan debuted in this edition. Thailand and South Africa returned in the contest after a long break from the contest. Girls' Generation, Playmen, Elena Paparizou, Kelly Schembri and Katy Perry also returned to the contest. Greece and Finland were already in the final. Malta didn't manage to make it to the final. South Korea was near the victory once again, like in the 10th edition, where they came 2nd. Thailand won the contest with Tata Young and her song "Cinderella".
Awards
Participants
| Withdrawing countries | Returning countries | Debuting countries |
| --- | --- | --- |
| | | |
Returning artists
Results
Semi-final 1
Draw
Country
Artist
Song
Place
Points
1
South Korea
Girls' Generation
"Paparazzi"
2
140
2
Sweden
Andreas Johnson
"Lovelight"
10
82
3
Austria

Cornelia Mooswalder

"Should Have Let You Love Me"
6
124
4
Australia

Faydee

"Forget the World (FML)"
5
131
5
Thailand
Tata Young
"Cinderella"
3
137
6
Germany
Oceana
"Endless Summer"
1
153
7
Serbia

Daniel Djokic

"Shake Your Body"
12
59
8
Uzbekistan
Ziyoda
"Kun Tong"
8
109
9
Netherlands

will.i.am

feat. Eva Simons
"This is Love"
7
112
10
Malta

Honorebel

feat.

Stephen Davids

& Kelly Schembri
"Strip Search"
9
84
11
Cyprus
Playmen & Elena Paparizou
"All The Time"
4
134
12
Tuvalu

Holly Valence

"Down Boy"
11
69
Semi-final 2
Draw
Country
Artist
Song
Place
Points
1
San Marino

Antonella Lo Loco

"Cuore Scoppiato"
5
125
2
United States

Charlotte Sometimes

"How Could I Just Kill A Man"
7
103
3
Italy

Dominic

"The Donkey"
11
73
4
France

Matt Houston

feat.

P-Square

"Positif"
9
100
5
Belgium
Tom Dice
"Out At Sea"
2
144
6
Slovenia
April
"Ladadidej"
6
121
7
Ireland
Katy Perry
"

Hot N Cold

"
1
150
8
Bosnia & Herzegovina
Hari Mata Hari
"Ne Lomi Me"
12
67
9
Switzerland
Stefanie Heinzmann
"Diggin in the Dirt"
4
126
10
United Kingdom
Misha B
"Home Run"
10
93
11
South Africa

The Parlotones

"Come Back as Heroes"
8
101
12
Georgia
Tamta
"Niose Tin Kardia"
3
131
Final
Draw
Country
Artist
Song
Place
Points
1
Switzerland
Stefanie Heinzmann
"Diggin in the Dirt"
13
81
2
Slovenia
April
"Ladadidej"
9
118
3
Cyprus
Playmen & Elena Paparizou
"All The Time"
3
170
4
Georgia
Tamta
"Niose Tin Kardia"
10
115
5
Thailand
Tata Young
"Cinderella"
1
177
6
Belgium
Tom Dice
"Out At Sea"
8
130
7
Austria

Cornelia Mooswalder

"Should Have Let You Love Me"
7
135
8
South Korea
Girls' Generation
"Paparazzi"
2
172
9
Finland

Anna Abreu

"Music Everywhere"
11
111
10
San Marino

Antonella Lo Loco

"Cuore Scoppiato"
12
110
11
Ireland
Katy Perry
"

Hot N Cold

"
6
135
12
Greece

Nikos Oikonomopoulos

"Eglima Kardias"
14
62
13
Germany
Oceana
"Endless Summer"
5
139
14
Australia

Faydee

"Forget the World (FML)"
4
143
External links