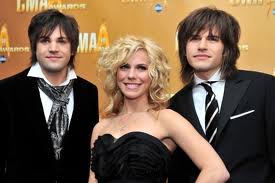 The Band Perry, an American country music group, is composed of siblings Kimberly Perry (lead vocals, guitar, piano), Reid Perry (bass guitar,background vocals) and Neil Perry (mandolin, drums, accordion, background vocals). The Perry siblings began singing as children in Alabama. They claim Greeneville, Tennessee, as their hometown and currently live there with the rest of their family. Kimberly was born in 1983 (age 28), Reid in 1988 (age 23), and Neil in 1990 (age 21).
Their song, "Hip To My Heart" competed in OVSC 13, but failed to qualify for the final.
Eligible to participate for
Community content is available under
CC-BY-SA
unless otherwise noted.