Peace Song Contest 8
Send your message to the world
Dates
Semi-final 1 date
9 May 2017
Semi-final 2 date
10 May 2017
Final dates
11 May 2017
Host
Venue
Russia, Moscow
Presenter(s)
Victoria Lopyreva

Andrey Malakhov (green room)

Director
Kiril Ivan
Executive supervisor
Marcus Hecus
Executive producer
Genndy Tartakovsky
Interval act
Last year winner Kirgiz
Participants
Number of entries
33
Debuting countries
Poland
Returning countries
Montenegro
Withdrawing countries
Belarus
France
Portugal
Hungary
San Marino
Romania
Malta
Turkey
Italy
Georgia
Vote
Nul points
Russia
Winning song
Lithuania

Kotryna Juodzevičiūtė - "Love Shadow"

Peace Song Contest
◄7 9►
Each country gives 1-12 points to their 10 favourtes songs. The country which has the most points win the competition and gets a chance to organize contest to their country.
PEACE Song Contest history Edit
You can see all winners, runner-ups, third and last places winners right here > PEACE Song Contest
On the 21 of February was decided to organize Peace Song Contest 8 in Moscow, Russia in Olympic Stadium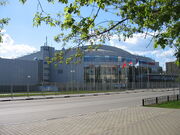 Artists and songs Edit
Artist and song have to be selected the week before first semi-final
"Nul points" or last place Edit
Countries who have nul point in the final scoreboard or was last in the grand final have to withdraw from competition next year. After one year they can return to competition.
Semi-final 1 Edit
Draw
Country
Artist
Song
Place
Points
1
Montenegro
Andrea Demirović
"Za nju"
8
65
2
Latvia
The Ludvig
"I'm in

Love With You"

4
79
3
Ukraine
TAYANNA
"I Love You"
1
123
4
Austria
Elly V
"I'll Be Around (Bounce)"
6
67
5
Poland
Lanberry
"Only Human"
3
82
6
North Macedonia
Tamara Todevska
Sinking ship
11
57
7
Estonia
Kerli
"Spirit Animal"
2
106
8
Croatia
Pjerino Ružević
"Sreća"
12
50
9
Albania
Genc Salihu
"Këtu"
14
29
10
Norway
Ammunation
"Wrecking Crew"
10
58
11
Moldova
Ethno Republic & Surorile Osoianu
"Discover Moldova"
16
5
12
Switzerland
Nadya
"The Fire in the Sky"
15
28
13
Slovenia
BQL
"Heart of Gold"
13
39
14
United Kingdom
Holly Brewer
"I Wish I Loved You More"
7
67
15
Germany
Helene Nissen
"Wildfire"
5
68
16
Azerbaijan
Milk and Kisses
"Under My Skin"
9
63
Semi-final 2 Edit