Ourvision Song Contest 30



Contest

Edition no.

30

Participants

25

Location

Auckland, New Zealand

Dates

Semi-final 1: September 1, 2012
Semi-final 2: September 4, 2012
Final: September 8, 2012

Winner

Timeline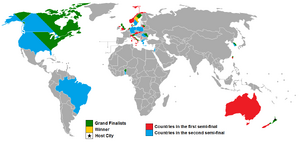 Ourvision Song Contest 30, often referred to as OVSC 30, was the 30th edition of Ourvision Song Contest.
It was held in Auckland, New Zealand. 25 countries participated in the contest. There were two semi-finals with 13 countries in the first and 12 countries in the second. 7 countries from each semi-final qualified for the final, making it 14 countries in the final. The winning country was Sweden, who were represented by Amanda Jenssen with her song "Amarula Tree".
Countries Edit
| Withdrawing countries | Returning countries | Debuting countries |
| --- | --- | --- |
| TBA | TBA | |
Returning artists Edit
National selections Edit
Semi-final 1 Edit
Semi-final 2 Edit
External links Edit
Video archive on Youtube
Contest page on the official website