Ourvision Song Contest 3



Contest

Edition no.

3

Participants

24

Location

Tallinn, Estonia

Dates

Semi-final 1: July 18, 2011
Semi-final 2: July 21, 2011
Final: July 24, 2011

Winner

Timeline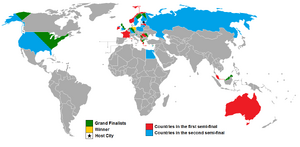 Ourvision Song Contest 3, often referred to as OVSC 3, was the 3rd edition of Ourvision Song Contest.
About
It was held in Tallinn, Estonia. 24 countries participated in the contest. There were two semi-finals with 12 countries in each and 7 countries from each semi-final qualified for the final, making it 14 countries in the final. The winner was Cascada with the song "Evacuate the Dancefloor", representing Germany.
Beatrix Ramosaj from Albania was added to the OVSC Hall of Fame after participating in this edition.
Awards
| Award | Recipient |
| --- | --- |
| Theme | 1990-2018 Canciones de la big five (Spain,Germany,Italy,France,UK) |
| | |
| | |
| | |
Debuting users
Results
Semi-final 1
| Draw | Country | Artist | Song | Place | Points |
| --- | --- | --- | --- | --- | --- |
| 1 | Ireland | Jade Ewen | Its My Time | 4 | 83 |
| 2 | Finland | Alex Swing Oscar Sings | Miss Kiss Kiss Bang | 12 | 8 |
| 3 | Italy | David Civera | Dile Que La Quiero | 11 | 21 |
| 4 | France | Ruth Lorenzo | Danzing in the rain | 2 | 95 |
| 5 | Latvia | Emma | La Mia Citta | 9 | 37 |
| 6 | Belguium | Lena | Taken by a stranger | 3 | 88 |
| 7 | Swedew | Gracia | Run and Hide | 8 | 50 |
| 8 | Portugal | Francesca Michielin | No Degree Of Separation | 1 | 102 |
| 9 | UK | Anabel Conde | Vuelve Conmigo | 5 | 67 |
| 10 | Bulgaria | Jallise | Fiumi Di Parole | 10 | 28 |
| 11 | Israel | Texas LIghtning | No,No,Never | 6 | 60 |
| 12 | Switheland | Lucia Perez | Que me quiten lo bailao | 7 | 57 |
Semi-final 2
| Draw | Country | Artist | Song | Place | Points |
| --- | --- | --- | --- | --- | --- |
| 1 | Yugoslavia | Lena | Satellite | PSA | PSA |
| 2 | Poland | Pastora Soler | Quedate Conmigo | 8 | 49 |
| 3 | Ukraine | Amaia y Alfred | Tu Cancion | 7 | 55 |
| 4 | Montenegro | Elaiza | Its A Right | 3 | 88 |
| 5 | Armenia | Molly | Children Of The Universe | 1 | 100 |
| 6 | Germany | Beth | Dime | 10 | 25 |
| 7 | San Marino | Daniel Diges | Algo Pequeñito | 11 | 16 |
| 8 | Italy | Jessica Garlick | Come Back | 9 | 38 |
| 9 | Spain | Bonnie Tyler | Believe in me | 5 | 71 |
| 10 | Cyprus | Cascada | Glorius | 6 | 69 |
| 11 | Grecce | El Sueño De Morfeo | Contigo Hasta El Final | 2 | 97 |
| 12 | Andorra | Karina | Un Mundo Nuevo | 4 | 76 |
Final
| Draw | Country | Artist | Song | Place | Points |
| --- | --- | --- | --- | --- | --- |
| 1 | Cyprus | Cascada | Glorius | 14 | 56 |
| 2 | Spain | Bonnie Tyler | Believe In Me | 12 | 60 |
| 3 | Ireland | Jade Ewen | Its My Time | 9 | 87 |
| 4 | Armenia | Molly | Children Of The Universe | 2 | 141 |
| 5 | Andorra | Karina | Un Mundo Nuevo | 10 | 80 |
| 6 | Grecce | El Sueño De Morfeo | Contigo Hasta El Final | 3 | 134 |
| 7 | Yugoslavia | Lena | Satellite | 5 | 117 |
| 8 | Belgium | Lena | Taken By Stranger | 4 | 126 |
| 9 | Israel | Texas Lightning | No,No,Never | 8 | 95 |
| 10 | Portugal | Francesca Michielin | No Degree Of Separation | 1 | 143 |
| 11 | UK | Anabel Conde | Vuelve Conmigo | 11 | 75 |
| 12 | Montenegro | Elaiza | Its A Right | 7 | 103 |
| 13 | France | Ruth Lorenzo | Danzing In The Rain | 6 | 110 |
| 14 | Swithelands | Lucia Perez | Que Me Quiten Lo Bailao | 13 | 58 |
External links
Video archive on Youtube
Contest page on the official website