Ourvision Song Contest 25



Contest

Edition no.

25

Participants

25

Location

Madrid, Spain

Dates

Semi-final 1: July 1, 2012
Semi-final 2: July 4, 2012
Final: July 7, 2012

Winner

Timeline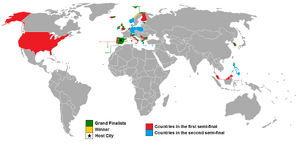 Ourvision Song Contest 25, often referred to as OVSC 25, was the 25th edition of Ourvision Song Contest.
It was held in Madrid, Spain. 35 countries participated in the contest. Spain automatically qualified for the final. There were two semi-finals with 12 countries in each and 6 countries from each semi-final qualified for the final, making it 13 countries in the final. The winning country was Norway, which was represented by Didrik Solli-Tangen with his song "Best Kept Secret".
1 It was announced that the Voters Award would no longer be given.
Countries
Edit
| Withdrawing countries | Returning countries | Debuting countries |
| --- | --- | --- |
| | | |
Returning artists
Edit
National selections
Edit
Country
Contest
Song
Final
Ciencia Naturales
Definicion
Estudian Fenómenos que ocurren a nuestro alrededor nuestro :Fisica Quimica Astronomia Biologa Geologia
1
Pseudociencia
Definicion
Busqueda a las respuestas objetivos a los fenómenos naturales que sigue el lenguaje científico sin basarse en experimentos objetivos
1
Ciencia
Definicion
Búsqueda de respuestas a fenómenos que sigue el lenguaje cientifico
1
Nombra las partes del método cientifico
Nombra Las Partes
1Planteamiento de un problema 2Formulacion de Hipótesis 3Experimentacion4Conclusion de resultados constrante del problema
1
Memoria
Nombra las Partes
Diapositivas
Nombra las partes
Verdadero O Falso
Ley Es conjunto de hipótesis:

Planteamiento De un Problema es la segunda fase del método Cientifico:

DI 3 Normas De Laboratoria
Ejercicio
Trabajo De Campo
Definicion
Trabajo De Laboratorio
Definicion
Trabajo Cientifico
Definicion
Hipotesis
Definicion
BIbliografia
Definicion
Semi-final 1
Edit
Semi-final 2
Edit
External links
Edit
Video archive on Youtube
Contest page on the official website
Community content is available under
CC-BY-SA
unless otherwise noted.