Ourvision Song Contest 12



Contest

Edition no.

12

Participants

30

Location

Ottawa, Canada

Dates

Semi-final 1: October 27, 2011
Semi-final 2: October 30, 2011
Final: November 2, 2011

Winner

Philippines
Charice feat. Iyaz
"Pyramid"

Timeline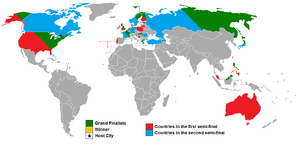 Ourvision Song Contest 12, often referred to as OVSC 12, was the 12th edition of Ourvision Song Contest.
About
It was held in Ottawa, Canada. 30 countries participated in the contest. There were two semi-finals with 15 countries in each and 8 countries from each semi-final qualified for the final, making it 16 countries in the final. The winner was Charice feat. Iyaz with the song "Pyramid", representing Philippines.
Awards
Countries
| Withdrawing countries | Returning countries | Debuting countries |
| --- | --- | --- |
| | | |
National selections
Results
Semi-final 1
Draw
Country
Artist
Song
Place
Points
1
United States
Bon Jovi
"Have a Nice Day"
6
125
2
Portugal
Amor Electro
"A Máquina"
10
95
3
United Kingdom
Globus
"Orchard Of Mines"
7
115
4
Finland
Nightwish
"Over the Hills and Far Away"
8
111
5
Lithuania
Saules kliosas
"Jei as buciau tu"
15
66
6
Bosnia & Herzegovina
Hari Mata Hari feat.

Nina Badric

"Ne mogu ti reci sta je tuga"
12
85
7
Philippines
Charice feat.

Iyaz

"Pyramid"
1
205
8
Denmark
Oh Land
"White Nights"
3
166
9
Australia
Cody Simpson
"Summertime"
14
75
10
Hungary

Bereczki Zoltán

"Kerek egész"
2
191
11
Poland
ZoSia
"Scream Out Louder"
9
104
12
Estonia
Getter Jaani
"Teater"
11
87
13
Netherlands

Waylon

"The Escapist"
13
81
14
Malaysia
Jaclyn Victor, Ning Baizura &

Shila

"Beribu Sesalan"
5
137
15
Armenia
Edita
"Im Ore Dardzav Tari"
4
155
Semi-final 2
Draw
Country
Artist
Song
Place
Points
1
Greece
OtherView
"Kane Me"
6
115
2
Barbados
Rihanna feat. Calvin Harris
"We Found Love"
12
57
3
Azerbaijan
Safura
"Glass House"
14
49
4
France
Mélissa Nkonda
"Nouveaux Horizons"
5
127
5
Turkey
Tarkan
"Simarik"
9
87
6
Belgium
K3
"MaMaSé"
8
102
7
Canada

Billy Talent

"Saint Veronika"
11
69
8
Japan
Meiko Kaji
"Shura no Hana"
7
112
9
Romania

Bob Taylor

feat. Inna
"Déjà Vu"
10
72
10
Slovenia
Maja Keuc
"Zmorem"
2
166
11
Sweden
Agnes
"On and On"
3
144
12
Bahamas
Beyoncé
"Countdown"
15
43
13
Germany

RZA

feat.

Xavier Naidoo

"Ich kenne nichts"
13
56
14
Norway
Timoteij feat. Alexander Rybak
"Vända med vinden"
1
171
15
Russia
Nyusha
"Vibirat Chudo"
4
138
Final
Draw
Country
Artist
Song
Place
Points
1
Philippines
Charice feat.

Iyaz

"Pyramid"
1
196
2
United Kingdom
Globus
"Orchard Of Mines"
15
73
3
Malaysia
Jaclyn Victor, Ning Baizura &

Shila

"Beribu Sesalan"
8
123
4
Armenia
Edita
"Im Ore Dardzav Tari"
6
147
5
Finland
Nightwish
"Over the Hills and Far Away"
11
104
6
Hungary

Bereczki Zoltán

"Kerek egész"
4
178
7
Japan
Meiko Kaji
"Shura no Hana"
10
109
8
Denmark
Oh Land
"White Nights"
9
120
9
Norway
Timoteij feat. Alexander Rybak
"Vända med vinden"
2
191
10
Greece
OtherView
"Kane Me"
13
89
11
United States
Bon Jovi
"Have a Nice Day"
16
48
12
France
Mélissa Nkonda
"Nouveaux Horizons"
12
102
13
Slovenia
Maja Keuc
"Zmorem"
3
181
14
Russia
Nyusha
"Vibirat Chudo"
5
157
15
Sweden
Agnes
"On and On"
7
136
16
Belgium
K3
"MaMaSé"
14
76
External links
Video archive on Youtube
Contest page on the official website