Ourvision Song Contest 1



Contest

Edition no.

1

Participants

24

Location

Stockholm, Sweden

Dates

Final: June 28, 2011

Winner

Timeline

2 ►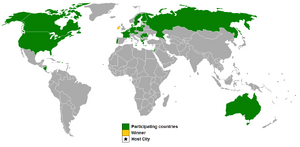 OVSC 1 redirects here. Did you mean Onlinevision Song Contest 1?
Ourvision Song Contest 1, often referred to as OVSC 1, was the 1st ever edition of Ourvision Song Contest.
It was held in Stockholm, Sweden. 24 countries participated in the contest. There was one big final with all of the 24 participating countries. The winner was Enya with the song "Only Time", representing Ireland.
Debuting users
Edit
External links
Edit
Video archive on Youtube
Contest page on the official website
Community content is available under
CC-BY-SA
unless otherwise noted.