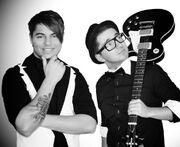 Musiqq are a Latvian duo who are most famous for representing Latvia in the Eurovision Song Contest 2011. They came 17th in the Semi Final, equalling Aisha's result last year in Oslo
Musiqq only just beat Lauris Reiniks in Latvia's national final for Dusseldorf.
Musiqq represented Latvia in the 3rd Edition of the OVSC but came 11th in the Semi therefore failing to reach the final with their song: "Abrakadabra"
Eligible to participate for
Community content is available under
CC-BY-SA
unless otherwise noted.