Mondevision Song Contest 6 is the sixth edition of the Mondevision Song Contest. It is taking place in Armenia, the winning country of the previous edition.
New rules
Edit
Songs from national finals of the Eurovision Song Contest aren't eligible to participate anymore.
World chart songs aren't eligible to participate anymore.
From now on, there will be a waiting list if more than 56 countries announce their interest in participating.
The strikes list will be introduced: if a player didn't vote in any show of this edition (at least in one semifinal or the Grand Final), he will receive a strike. If a player has got three strikes, he will be banned for one edition and gets on the last spot of the waiting list.
There will be a limit for YT views for borrowing countries.
The users have to submit their entries to the Mondevision Council which will approve or decline them.
Big 8 Countries
Edit
The Big 8 countries for this edition are:
Host country
Edit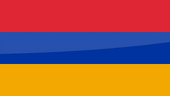 Armenia, officially the Republic of Armenia (Armenian: Հայաստանի Հանրապետություն, translit. Hayastani Hanrapetut'yun), is a sovereign state in the South Caucasus region of Eurasia. Located in West Asia on the Armenian Highlands, it is bordered by Turkey to the west, Georgia to the north, the de facto independent Republic of Artsakh and Azerbaijan to the east, and Iran and Azerbaijan's exclave of Nakhchivan to the south.
Armenia is a unitary, multi-party, democratic nation-state with an ancient cultural heritage. Urartu was established in 860 BC and by the 6th century BC it was replaced by the Satrapy of Armenia. In the 1st century BC the Kingdom of Armenia reached its height under Tigranes the Great. Armenia became the first state in the world to adopt Christianity as its official religion.
Participants
Edit
Semifinal 1
Edit
Armenia, Australia, Greece and North Korea had to vote in the first semifinal.
Semifinal 2
Edit
Catalonia, Japan, Thailand and Vatican City had to vote in the second semifinal.
Grand Final
Edit
The Grand Final is expected to start on 9th December 2017.
Returning artists
Edit
External links
Edit
If you want to participate, please visit:
Community content is available under
CC-BY-SA
unless otherwise noted.