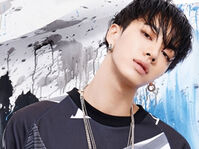 Lee Gi-kwang (Korean: 이기광; born March 30, 1990), known professionally as Gikwang or Kikwang, is a South Korean singer-songwriter and actor. He originally debuted as solo singer with the stage name AJ (Ace Junior), releasing his first mini album First Episode: A New Hero on April 4, 2009. In October 2009, he debuted as the main dancer, visual and a lead vocalist of boy group BEAST, which was renamed Highlight in February 2017.
He won as Member from Highlight the 75.Your Sound Contest with Loved. He also Participate in 82.Your Sound Contest with Don't Close Your Eyes feat Kid Milli who they both get a 4th Place and in 84.Your Sound Contest with What You Like who he get a 2nd Place. And he participate also in the 87.Your Sound Contest with Nothing who he get a ?th Place. In the History of the Your Sound Contest History, he is one of the most successful participant
Community content is available under
CC-BY-SA
unless otherwise noted.