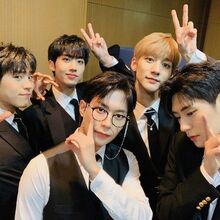 KNK (Hangul: 크나큰; RR: Keunakeun; lit. "great" or "to be great") is a South Korean boy group formed by YNB Entertainment, the company's first male idol group. KNK is an initialism which stands for K-pop knock, meaning "to knock on the door of K-pop with their music." They held their debut showcase on February 29, 2016 and officially released their debut single album titled Knock on March 3, 2016. It currently consists of five members, Seoham, Inseong, Jihun, Heejun and Dongwon. Original member Youjin departed from the group on September 10, 2018.
The Group won with Lonely Night the 86.Your Sound Contest.
Current:
Edit
Park Seoham
Jeong Inseong
Kim Jihun
Oh Heejun
Lee Dongwon
Knock
I Remember
Back Again
U
Sun, Moon, Star
Rain
Closer (Inseong, Jihun, Heejun)
Lonely Night
Community content is available under
CC-BY-SA
unless otherwise noted.