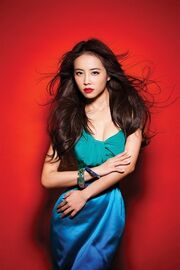 Jolin Tsai (Chinese: 蔡依林, born September 15, 1980) is a Taiwanese singer, songwriter, dancer, actress and entrepreneur. Often referred to as the "Queen of C-pop", "Asia's Dancing Queen" and "Asian Madonna", Tsai has achieved great popularity and fame in Greater China and has a dedicated fanbase worldwide. As a dance-pop vocalist, Tsai is cited as an influence on dance-pop music in Greater China.
Born and raised in Taiwan, Tsai began her singing career by winning the top prize at an MTV singing competition at the tender age of 18. Her debut album, released in 1999 entitled 1019 was a huge success and Tsai quickly became an idol in many Asian hearts. Her fifth album, Magic (2003), is regarded as one of her biggest successes so far, right after album Dancing Diva (2006), which sold over two million copies in Asia. After several successful albums and dozens of hits, she released her latest album Play in 2014.
Tsai is one of the top earners among Taiwanese celebrities today, and she has sold more than 23 million albums and won numerous awards across Asia, including Best Mandarin Female Singer and Most Popular Female Singer at the prestigious 18th Golden Melody Awards. In 2009, Tsai founded and started to manage her own music production and management company Eternal.
Tsai represented Taiwan in the first edition of the Record Song Contest with the song "Play".
Eligible to participate for
Community content is available under
CC-BY-SA
unless otherwise noted.