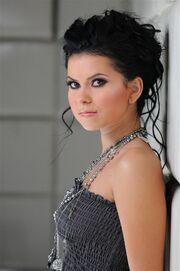 Inna
is a musician from
Romania
. Her real name is Elena Alexandra Apostoleanu but she is known by Inna. Inna has #1 hits in a plethora of countries.

Inna in the OurVisionSongContest
Inna debuted in the forth edition of OVSC with the song "Sun Is Up" which placed 8th in the final and 4th in the semi-final. Inna returned in the 12th edition with the song "Deja Vu". Deja vu won the first national selection of Romania but did not qualifie for the final by 15 points placing 10th. Inna made a third appearance in OVSC 21 with the song "10 Minutes". She represented Romania all three times.
Country in which she is elgiable to participate for
Eligible to participate for
Community content is available under
CC-BY-SA
unless otherwise noted.