The Great World Song Festival

Abbrev.

GWSF

Founded

March 31st, 2013

Origin

Germany

Current Country

United States

Editions

14

Specials

1

Songs

297 (GWSF #14)

Status

Open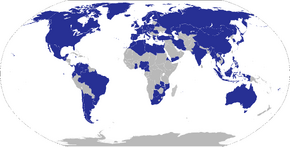 The Great World Song Festival (also known as GWSF) is an online song contest created by the user LuigiDan96. The current host is странник (nick). In the beginnings the contest, was a way to show off different music. From the second edition on users were allowed to participate.
Songs that have been used in other contests before can not enter. The source for that is the official Song Contest Wiki.
No ESC singers/songs (This also counts for National Selections)
No covers.
No artists that have had 'top hits' in the charts several countries. (At least two)
The singers have to live in their countries or be born there. If their parents are born there but not the singer himself, he can not enter.
The maximum number of participants is 25.
If you're holding a National Selection you can reserve a country. That means that your country can't be taken in the submission phase. Attention: If you don't confirm your NS winner via PM it won't be taken. Also if the 25 places are taken before you sent your entry, it is declined.
The winner can choose his entry first. The others have to wait until they are allowed to enter.
The winner can choose the next host city but it has to be in the winner country from the last edition.
Winning Users
Edit
Community content is available under
CC-BY-SA
unless otherwise noted.