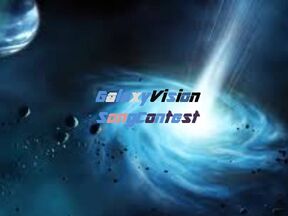 GalaxyVision Song Contest
(abbreviated
GVSC
) is an online music contest on youtube. The contest was managed by Nick (known as
MightyHawks123
on youtube) from Australia. The contest started on the 14th of August.
GalaxyVision Song Contest

Abbrev.

GVSC

Founded

August 14, 2012

Origin

Australia

Editions
The rules are very simple. If you submit a song you have to vote in the Semi Final or Final it's in or the entry will be disqualified (unless a user has a good reason for not voting). Users can't vote for their own entry but they can vote for their own country. Users who use multiple accounts to vote for their entry they will be banned from the contest.
Submitting
Edit
There are a couple of rules users need to read before submitting an entry. Some of the rules are that songs must have been realeased after the year 2000. Cover versions of songs are allowed. Also The artist has to have relations with the country the user is submitting it for.
In every edition the voting will always be the same. 12, 10, 8, 7, 6, 5, 4, 3, 2, 1 are the votes given to 10 of the participating countries.
Germany was the first country to win GVSC. Sweden was the first country to win it twice, while Germany was the second to win twice.
Winning Users
Edit
Most Successful Countries
Edit
Participation
Edit
In total, 65 countries have participated at least once in GVSC.
40 Countries from Europe
9 Countries from Asia
4 Countries from Carribean
4 Countries from South America
2 Countries from Africa
2 Countries from Central America
2 Countries from North America
2 Countries from Oceania
| Edition | Debuting Countries |
| --- | --- |
| #1 | Australia, Brazil, Denmark, Germany, Greece, Italy, Latvia, Lithuania, Serbia, South Korea, Sweden, Turkey. UK, United States |
| #2 | Albania, Azerbaijan, Canada, Israel, Malta, Moldova, Montenegro, Portugal |
| #3 | Åland Islands, Barbados, Belgium, Hungary, Japan, Morocco, Slovenia |
| #4 | Austria, Belarus, Estonia, Netherlands, Russia, Spain |
| #5 | Armenia, Colombia, Costa Rica, Indonesia, Romania, Uzbekistan |
| #6 | Guatemala, Pakistan |
| #7 | Lebanon, Norway |
| #8 | Georgia, Switzerland, Ukraine, Venezuela |
| #9 | Dominican Republic, Ecuador, Hong Kong, Iceland, North Macedonia, New Zealand, Slovakia |
| #10 | Finland, Ireland, Philippines, Poland, South Africa |
| #11 | Andorra, Cuba, Jamaica, Laos |
| #12 | Bulgaria, Cabo Verde, Croatia |
Community content is available under
CC-BY-SA
unless otherwise noted.