The Factual Song Contest #02 was the second edition of the Factual Song Contest, held at Brasília, Brazil and Stockholm, Sweden on July 24 for final. Dapturner1992 and Nvscfanph hosted the contest. 14 countries participated, with each of them performing one song. CHVRCHES won the contest for United Kingdom with the song "Empty Threat".
For more details on the host country, see Brazil and Sweden.
June 8 – Confirmation open
June 26 – Confirmation deadline
July 24 – Grand Final; voting opens
August 24 – Voting closed
August 31 – Results Show
Host countries
Edit
Due to the winner country of last edition, Sweden, cannot host whole edition of the Factual Song Contest, he discussed the second place and third place country of last edition for finding the co-host. Second place country, France, withdrew from the contest, and third place country, Brazil, accepted the co-host right. On 15 June 2016, it was announced that there will be two countries to host the second edition of the contest, Brazil and Sweden.
Presenters
Edit
15 June 2016, it was announced that Alessandra Ambrosio, Francisco Lachowski, Gina Dirawi, Petra Mede and Sarah Dawn Finer will host the second edition of the Factual Song Contest. Three Swedish hosts will be the main hosts and two Brazilian hosts will be the green room hosts.
24 July 2016, only Francisco Lachowski and Petra Mede appeared in the grand final.
Participating countries
Edit
It was announced that 14 countries would participate in the second edition.
14 countries participated in the final, with all 14 participating countries eligible to vote. The running order for the final was revealed on July 24.
Scoreboard
Edit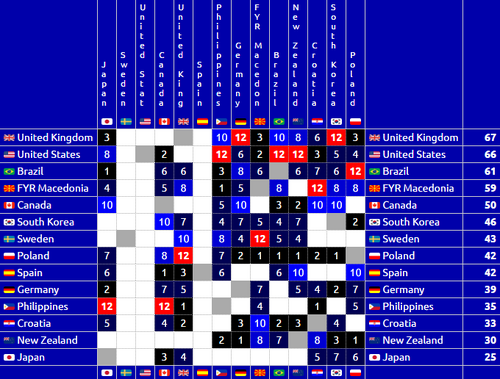 12 points in Final
Edit
Below is a summary of the maximum 12 points each country awarded to another in the final:
Other countries
Edit
France – The user, m2003real, announced on Jun 11 June 2016 that Frace withdrawed and Spain confirmed.
Israel – Israel has confirmed but fail to send an entry on time.
Norway – Norway hasn't confirmed on time.
External links
Edit
Factual Song Contest
#01, #02, #03, #04, #05, #06, #07, #08
Brazil, Croatia, France, Japan, Norway, Philippines, Poland, South Korea, Sweden, United Kingdom, United States|Canada, Germany, Macedonia, New Zealand, Spain|Bhutan, Denmark, Singapore|Belgium, Chile, Kazakhstan, South Africa, Taiwan|Albania, Malaysia|Australia, Czech Republic, Finland, Italy, Portugal

Community content is available under
CC-BY-SA
unless otherwise noted.