Creative Song Contest #5

Share Your Emotions!

Edition number

5

Participants

24

Location

Paris, France

Winner

United States
Katy Perry
"Unconditionally"
CSC #5 was the fifth edition of the Creative Song Contest, which started on December 14th, 2013. 24 countries took part in the fifth edition and there were no semi finals.
Debuting, returning & withdrawing countries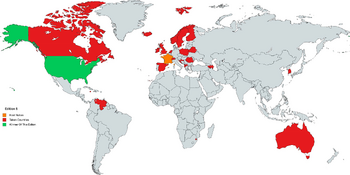 | Withdrawing countries | Returning countries | Debuting countries |
| --- | --- | --- |
| | | |
Returning artists
Final
| Country | Artist | Song | Place | Points |
| --- | --- | --- | --- | --- |
| United States | Katy Perry | "Unconditionally" | 01 | 102 |
| Switzerland | Zazou | "Tornado" | 02 | 98 |
| Jamaica | Anise K ft. Snoop Dogg & Bella Blue | "Walking On Air" | 03 | 88 |
| Australia | Samantha Jade | "Soldier" | 04 | 83 |
| Spain | Mónica Naranjo | "Europa" | 05 | 80 |
| Sweden | Loreen | "Crying Out Your Name" | 06 | 75 |
| Armenia | Tamar Kaprelian | "New Day" | 07 | 68 |
| Iceland | Krissi Haff ft. Westboyz | "Heima Hjá Mér" | 08 | 58 |
| Belgium | K3 | "Waar Zijn Die Engeltjes?" | 09 | 56 |
| Venezuela | Mochuelo | "En Mi Cuarto" | 10 | 53 |
| United Kingdom | Ellie Goulding | "How Long Will I Love You?" | 11 | 53 |
| Finland | TURISAS | "Stand Up And Fight" | 12 | 51 |
| Ireland | One Direction | "Best Song Ever" | 13 | 48 |
| Bulgaria | Joanna Dragneva | "Samo Mezhdu Nas" | 14 | 45 |
| France | Sasha Lopez ft. Andreaa D & Broono | "All My People" | 15 | 42 |
| North Macedonia | Elena Risteska | "Ni Na Nebo Ni Na Zemja" | 16 | 40 |
| Poland | Gromee ft. Tommy Gun & Ali Tennant | "You Make Me Say" | 17 | 40 |
| Norway | Margaret Berger | "Human Race" | 18 | 40 |
| Croatia | Dean Dvornik | "Samo Za Nju" | 19 | 40 |
| Canada | Dallas Smith | "Nothing But Summer" | 20 | 36 |
| Romania | Liviu Hodor ft. Mona | "Sweet Love" | 21 | 36 |
| Albania | Tuna | "I Asaj" | 22 | 35 |
| South Korea | Ailee | "Scandal" | 23 | 30 |
| Eswatini | Tiyas ft. Maz | "Let Loose" | 24 | 28 |