This article contains good and sufficient information and is one of 6 excellent articles on this Wiki.
Christine Milton is a Danish pop singer, songwriter and professional dancer.
She is the original singer behind Jamelia's international hit single "Superstar", which was written and produced by Danish producers Cutfather & Joe and Remee in 2003.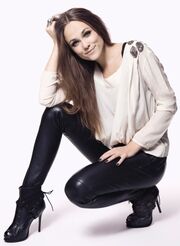 Our Vision Song Contest
She won in the 5th edition of Danish Music Contest with her song "Superstar". She took the victory for Denmark for the first time in the 14th edition of OVSC.
Songs
Det' forbi

Shine On

So Addictive

Superstar (song contest winner)

Tilbage

Whicketywhack (I Ain't Coming Back)
Eligible to participate for
More Info
For more information about Christine Milton go to the official wikipedia link: