Americavision Song Contest

Abbrev.

ASC

Founded

May 19, 2017

Origin

Germany

Editions

1 (So far)

Specials

1

Countries

50

Songs

50

Channel
Americavision Song Contest (abbreviated ASC) is a song contest on YouTube. The competition is based upon the existing Eurovision Song Contest. In the Americavision Song Contest, the 50 states of the USA are allowed to participate.
Concept and rules
Edit
The Americavision Song Contest consists of three semifinals and a Grand Final. The participating states are randomly drawn into one of these semi finals where they compete against each other for the 26 spots in the final.
The winning state of the last contest is the next hosting state.
The entries are chosen internally for the first edition. From the second edition on, users can hold preselections for a state they choose. A song is eligible to participate if it meets the following requirements:
The entry has to have been released within the last ten years
There must be a music video (fan-made or official) for the entry
Remastered versions are allowed if they're sung by the same artist
The performer of the entry has to be born, raised or be living in the state they compete for (in cases of collaborations, only one of the performers has to meet this requirement)
Only the audience is allowed to vote in the semifinals and in the Grand Final. The users rate each song from 1 to 10 via a Google form. The winner is the song with the most points and will be selected 100 % by public voting.
Editions
Edit
Editions
Edit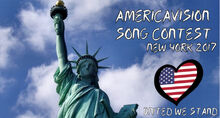 Americavision Song Contest 1
Edit
The first edition of the Americavision Song Contest is a special edition which will be held in New York City, New York. All states will be participating.
Community content is available under
CC-BY-SA
unless otherwise noted.