This article contains good and sufficient information and is one of 6 excellent articles on this Wiki.
Alien Beat Club (often abbreviated as ABC) are a Danish pop/R&B group, best known as second-place winners on Series 2 of the Danish X Factor.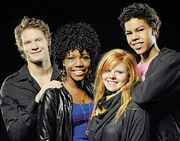 Its members - Kasper Spring Ehlers, Marcel Mark Gbekle, Patricia Namakula Mbabazi and Stephanie Lykkehøj Gudmundsen - had originally auditioned as solo artistes at the beginning of the competition, but were later formed into a band by judge/mentor Remee.
Band members
Kasper Spring Ehlers
Marcel Mark Gbekle
Patricia Namakula Mbabazi
Stephanie Lykkehøj Gudmundsen
Our Vision Song Contest
Edit
ABC participated for Denmark in the seventh edition of OVSC with their song "My Way".
They managed to take a 14th place with 77 points in the second Semi-Final, which was not enough to qualify to the final.
Eligible to participate for
Community content is available under
CC-BY-SA
unless otherwise noted.