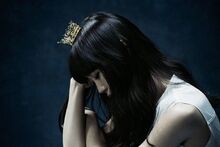 Aimer (エメ Eme, [eme]) is a Japanese pop singer and lyricist signed to SME Records and managed by FOURseam. Her name comes from the verb "Aimer" in French which means "to love". She is active as Singer since 2011.
She won the 76.Your Sound Contest with the Song "I Beg You" and get 212 Points.
Early life
Edit
Her father was the bassist of a band, so Aimer grew up surrounded by music from a very young age. She began studying the piano in elementary school and highly looked up to Ringo Sheena and Utada Hikaru. In junior high school, listening to Avril Lavigne inspired her to take up guitar and began writing English lyrics. At the age of 15, Aimer lost her voice due to over-usage of her vocal chords and was forced to undergo silence therapy for treatment. However, that did not stop her, and after she recovered, she acquired her distinctive husky voice.
ONE
Ref:rain
Black Bird
I beg You
Community content is available under
CC-BY-SA
unless otherwise noted.