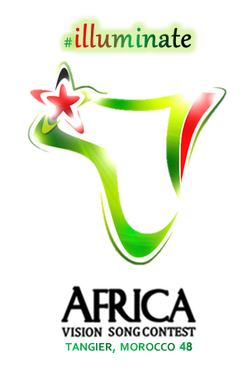 AfricaVision Song Contest 48

Edition number

48

Final date

June 8, 2016

Participants

23

Location

Tangier, Morocco

Winner

Canary Islands
Xriz feat. Buxxi
"Mi Corazón"

Timeline
AfricaVision Song Contest 48 was the 48th edition of AFV. The contest took place in Tangier,

Morocco. The winner of AFV#48 was

Canary Islands with the song "Mi Corazón" sung by Xriz feat. Buxxi, which scored 153 points, beating

South Africa with a margin of 37 points.

Comoros finished in the third place and

Zimbabwe in the fourth, while

Morocco finished in the fifth place.
Participants
| Withdrawing countries | Returning countries | Debuting countries |
| --- | --- | --- |
| | | |
Returning Artist
Country
Previous Edition

Alsarah

Sudan
#30

Diamond

Tanzania
#14, #20, #25 (for Kenya), #28

DJ Arafat

Ivory Coast
#13, #31, #35 (for Togo)

Elam Jay

Morocco
#1, #7

Hamzo Bryn

Mauritania
#46 (as part of band

Soco Izi

), #47
Imany
Comoros
#8, #16, #33, #41, #45

Jay

South Africa
#14, #26

Lianie May

South Africa
#14, #26

Manel Filali

Algeria
#3, #36, #44 (as part of duo

Milk & Honey

)

Mary N´Diaye

Gambia
#2 (for Senegal), #9, #15 (for Senegal), #19, #36

Neneh Cherry

Sierra Leone
#8 (for Senegal), #36

Neuza

Cabo Verde
#12, #35, #42

Priscillah

Rwanda
#44

Tchobari

Angola
#20

Tkay Maidza

Zimbabwe
#42

Xriz

Canary Islands
#46

Yaba Angelosi

South Sudan
#24, #26, #27, #30, #34
Draw
Country
Artist
Song
Place
Points
01
Cabo Verde

Neuza

"

Djar Fogo

"
09
63
02
South Africa

Lianie May

&

Jay

"

Vir Liefde

"
02
116
03
Nigeria

Cynthia Morgan

"

Kuchi Kuchi

"
10
62
04
Cameroon

Reniss

"

La Sauce

"
17
28
05
Zimbabwe

Martin Solveig

feat.

Tkay Maidza

"

Do It Right

"
04
97
06
Sierra Leone

Neneh Cherry

"

Woman

"
13
42
07
Comoros
Imany feat. Filatov & Karas
"

Don't Be So Shy

"
03
109
08
Mozambique
Ylvis
"

Someone Like Me

"
15
38
09
Ivory Coast

Kiff No Beat

feat.

DJ Arafat

"

Approchez Regardez

"
19
26
10
Mauritania

Hamzo Bryn

feat.

Ely

,

Yu-Zee

&

Sidi Kane

"

Tfel Bhelmi

"
16
36
11
Canary Islands

Xriz

feat.

Buxxi

"

Mi Corazón

"
01
153
12
Namibia

Sunny Boy

"

50/50 Love

"
07
71
13
Morocco

Elam Jay

"

Sunshine

"
05
92
14
Seychelles

Stelio

"

Monn Amoure

"
22
22
15
Burundi

Best Future

feat.

Amadou

"

Mipigiko

"
21
24
16
Angola

Tchobari

"

Filha Alheia

"
14
39
17
Algeria

Manel Filali

feat.

Don Cali

"

Leche Leche

"
08
68
18
South Sudan

Yaba Angelosi

"

Yes We Believe Africa

"
18
26
19
Tanzania

Diamond

"

Utanipenda

"
12
52
20
Rwanda

The Ben feat. Priscillah

"

Ntacyadutanya

"
11
57
21
Zambia

Slap Dee

"

Paya One

"
23
09
22
Gambia

Junior Tshaka

feat.

Mary N'Diaye

&

Didier Awadi

"

La Limite (360)

"
06
78
23
Sudan

Débruit

&

Alsarah

"

Jibal Alnuba

"
20
26
Voting Grid
Voting results
Total
Cape Verde
8
12
5
7
1
6
2
8
5
8
1
63
South Africa
12
1
5
7
12
3
6
12
2
12
7
3
10
8
8
8
116
Nigeria
5
2
3
1
10
6
8
5
10
12
62
Cameroon
1
3
8
3
8
5
28
Zimbabwe
12
1
12
10
10
4
10
7
10
4
3
6
1
7
97
Sierra Leone
2
7
8
1
3
7
1
12
1
42
Comoros
8
8
10
7
6
7
12
8
10
12
12
6
3
109
Mozambique
3
8
2
10
4
5
2
4
38
Ivory Coast
10
4
3
2
1
6
26
Mauritania
3
10
7
5
2
8
1
36
Canary Islands
10
6
4
12
2
2
12
12
7
7
6
12
5
2
10
12
8
2
12
10
153
Namibia
6
3
6
10
10
5
6
5
4
7
7
2
71
Morocco
5
6
3
4
5
10
6
3
8
5
8
7
10
5
7
92
Seychelles
4
1
12
4
1
22
Burundi
10
1
4
2
2
5
24
Angola
12
4
8
1
1
6
3
1
3
39
Algeria
7
7
1
5
5
3
8
12
4
6
4
6
68
South Sudan
2
5
1
4
4
6
2
2
26
Tanzania
3
12
5
10
2
10
5
3
2
52
Rwanda
1
4
6
8
2
7
4
7
4
6
4
4
57
Zambia
2
7
09
Gambia
7
4
2
4
6
7
1
8
3
1
3
5
10
12
5
78
Sudan
6
6
3
8
3
26