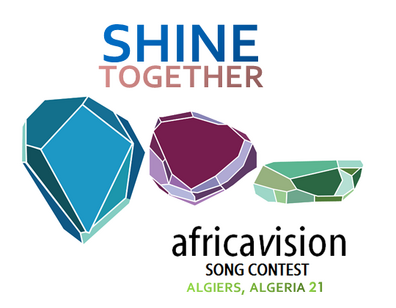 AfricaVision Song Contest 21

Edition number

21

Final date

January 07, 2015

Participants

25

Location

Algiers, Algeria

Winner

Timeline
AfricaVision Song Contest 21 was the 21st edition of AFV. The contest took place in Algiers,

Algeria. The winner of AFV#21 was

Ghana with the song "Walk" sung by Kwabs, which scored 150 points, beating

Tunisia with a margin of 19 points.

South Africa finished in the third place and

Zambia in the fourth, while
Equatorial Guinea finished in the fifth place.
Participants
| Withdrawing countries | Returning countries | Debuting countries |
| --- | --- | --- |
| | | |
| Returning Artist | Country | Previous Edition |
| --- | --- | --- |
| Africa Nova | Burundi | #11 |
| Concha Buika | Equatorial Guinea | #15 |
| Filipe Santo | Sao Tome and Principe | #5 |
| Havana Brown | Mauritius | #3 |
| Louise Carver | Saint Helena | #3 (for South Africa) |
| Mayra Andrade | Cabo Verde | #2, #5, #11 |
| Nancy Ajaj | Sudan | #17 |
| Njie B | Gambia | #7 |
| Pitbull | Mauritius | #3, #9 (for Algeria) |
| Sayat Demissie | Ethiopia | #1, #6 |
| Tal | Algeria | #14, #15, #18 |
| Tunisiano | Tunisia | #2, #4 |
| Willem Botha | South Africa | #20 |
| Zap Mama | DR Congo | #13 |
Voting Grid
Voting results
STH
RÉU
Total
Cape Verde
5
1
4
2
7
2
3
24
Ghana
5
10
2
5
6
10
7
12
4
4
12
5
10
10
12
12
12
12
150
Angola
8
6
12
1
2
3
6
5
7
2
3
4
8
3
4
4
78
Egypt
5
6
5
12
2
8
38
Cameroon
7
6
8
6
3
1
2
10
2
2
4
5
6
6
68
Ethiopia
1
1
8
12
1
3
1
27
Sao Tome and Principe
4
4
4
1
7
8
6
34
Mauritius
3
10
12
1
5
8
5
1
6
3
2
8
64
Namibia
1
10
7
18
South Africa
12
4
12
4
8
10
3
12
3
3
12
8
3
4
8
6
7
10
129
Seychelles
8
6
8
2
1
7
32
Saint Helena
6
2
7
3
10
8
2
3
6
1
1
3
7
8
2
2
71
Tanzania
8
1
5
6
6
2
8
1
3
40
Sudan
3
1
4
2
3
13
Tunisia
4
7
2
5
12
7
3
7
10
6
10
7
7
12
7
7
1
7
10
131
Zambia
12
5
7
10
6
7
4
4
1
12
12
8
8
96
Nigeria
2
2
3
10
12
7
4
12
10
1
1
6
70
Equatorial Guinea
2
7
8
8
12
6
5
6
5
10
10
10
5
94
Gambia
6
5
4
1
1
2
19
Central African Republic
4
7
12
8
3
10
5
3
10
7
5
74
DR Congo
7
07
Burundi
3
4
4
11
Botswana
3
5
8
6
22
Réunion
3
10
2
2
4
5
8
5
4
6
5
4
5
63
Algeria
10
10
1
12
1
2
8
6
10
5
12
77