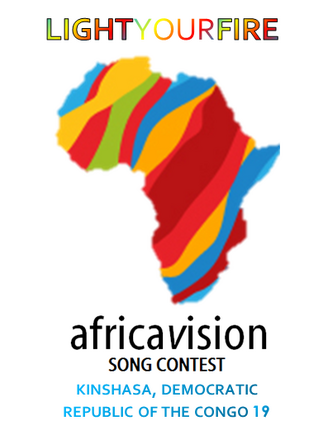 AfricaVision Song Contest 19

Edition number

19

Final date

December 3, 2014

Participants

23

Location

Kinshasa, DR Congo

Winner

Namibia
Riana Nel
"Soos Die Son"

Timeline
AfricaVision Song Contest 19 was the 19th edition of AFV. The contest took place in Kinshasa,

DR Congo. The winner of AFV#19 was

Namibia with the song "Soos Die Son" sung by Riana Nel, which scored 119 points, beating

Sao Tome and Principe with a margin of 11 points.
Cabo Verde finished in the third place and

South Africa in the fourth, while

Tunisia finished in the fifth place.
Participants
| Withdrawing countries | Returning countries | Debuting countries |
| --- | --- | --- |
| | | |
Returning Artist
Country
Previous Edition

Andriëtte

South Africa
#8
Estelle
Saint Helena
#14

Flavel

Cabo Verde
#6, #7, #8
Indila
Algeria
#4, #7
Ivy Quainoo
Ghana
#11, #13, #15, #16

Mary N'Diaye

Gambia
#2 (for Senegal), #9, #15 (for Senegal)
Mohombi
DR Congo
#17 (as part of band

Avalon

)
Nathalie
Tunisia
#11

Neto

Cabo Verde
#6, #7, #8

Ny Sakelidalana

Madagascar
#3

Rex

Nigeria
#16

Riana Nel

Namibia
#1, #7

Telsy

Seychelles
#18
The Weeknd
Ethiopia
#5
Voting Grid
Voting results
STH
Total
Morocco
4
2
2
3
6
17
Cameroon
4
1
1
6
6
18
Tanzania
4
4
7
10
5
30
Zambia
6
3
5
10
5
5
3
10
4
7
1
3
62
Seychelles
3
2
1
8
12
8
34
Libya
10
1
2
7
6
10
8
4
6
3
7
64
Cape Verde
6
5
8
6
12
3
4
7
1
2
7
8
5
10
5
12
6
107
South Africa
3
10
12
12
10
5
5
4
10
1
10
12
94
Ethiopia
7
7
8
5
8
5
6
2
48
Gambia
1
2
5
6
6
10
1
8
1
2
2
1
2
8
10
65
Mauritius
1
2
8
2
5
10
4
12
10
54
Sao Tome and Principe
5
4
10
7
10
8
2
4
3
12
8
8
3
5
3
12
4
108
Tunisia
12
7
12
7
3
6
12
7
10
2
7
7
92
Madagascar
6
1
1
8
7
23
Namibia
4
12
10
10
12
1
4
12
4
12
6
3
8
7
8
6
119
Swaziland
2
4
3
4
4
6
5
28
Burundi
8
1
5
14
Nigeria
1
6
5
3
7
1
8
6
3
2
3
5
3
10
3
66
Central African Republic
5
7
5
3
2
3
12
10
1
6
7
4
5
2
72
Saint Helena
3
4
4
1
12
Ghana
2
2
12
12
2
8
2
7
12
6
12
1
78
Algeria
8
8
6
10
1
7
7
8
4
59
DR Congo
12
7
10
8
1
3
6
2
4
12
5
70