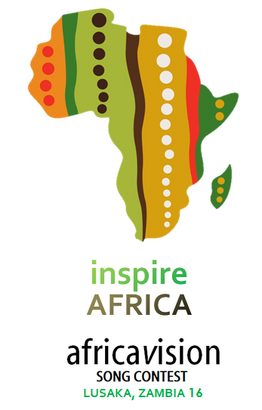 AfricaVision Song Contest 16

Edition number

16

Final date

November 2, 2014

Participants

27

Location

Lusaka, Zambia

Winner

Timeline
AfricaVision Song Contest 16 was the 16th edition of AFV. The contest took place in Lusaka,
Zambia. The winner of AFV#16 was

Senegal with the song "La Vita Sbagliata Non E'" sung by Jenny B, which scored 136 points, beating
Nigeria with a margin of 14 points.

Comoros finished in the third place and
DR Congo in the fourth, while
South Africa finished in the fifth place.
ParticipantsEdit
| Withdrawing countries | Returning countries | Debuting countries |
| --- | --- | --- |
| | | |
Voting GridEdit
Voting results
STH
Total
Saint Helena
6
4
5
6
7
3
3
1
1
8
12
7
1
64
Namibia
12
8
2
10
2
12
12
58
Cape Verde
1
12
2
2
7
10
6
40
South Africa
8
2
10
8
8
3
5
12
8
8
6
10
5
2
6
2
3
106
Algeria
10
12
12
10
3
5
6
3
4
4
7
10
7
5
98
Morocco
7
3
5
1
16
Angola
6
4
2
4
12
10
12
6
4
7
67
Zambia
7
5
7
1
8
3
1
2
6
7
12
8
4
71
Senegal
3
12
3
7
12
12
4
4
7
6
8
1
10
2
8
12
6
6
10
3
136
Sao Tome and Principe
1
8
4
6
4
3
1
27
Comoros
4
1
8
4
2
3
7
8
6
12
10
5
8
10
10
12
2
8
120
Nigeria
2
6
2
10
7
5
10
12
10
10
5
8
4
1
4
5
10
1
10
122
Cameroon
5
1
4
1
6
6
2
3
5
12
5
50
Eritrea
6
10
5
1
6
28
DR Congo
12
5
6
7
12
10
7
8
4
12
2
12
1
8
8
114
Egypt
3
1
6
8
3
21
Ghana
10
4
2
1
7
12
5
7
3
12
8
6
77
Swaziland
7
5
5
8
7
12
44
Tanzania
1
5
2
4
5
1
3
8
7
10
46
Tunisia
2
7
10
6
1
4
2
32
Republic of the Congo
8
7
5
12
2
34
Malawi
3
1
6
4
4
6
2
2
4
3
35
Seychelles
3
3
5
4
2
7
24
Lesotho
8
7
10
3
2
1
4
7
42
Sudan
5
1
4
5
5
20
Zimbabwe
10
1
2
2
3
7
3
10
6
44
Ethiopia
6
4
1
3
8
3
5
30